Hello!
I'm a new Hopsworks user. I'm trying to ingest some data to a feature group. I'm working from a conda environment in VSCode I'm able to create a connection using the project name and API key:
conn = hsfs.connection(
    project = HOPSWORKS_PROJECT_NAME,
    api_key_value = HOPSWORKS_API_KEY
)

and get the feature store:
fs = conn.get_feature_store()

Creating a feature group is working:
fg = fs.create_feature_group(
    name='some_name',
    version=1,
    description='some_description',
    primary_key=['some_id'],
    online_enabled=True
)

But when I try to save the dataframe:
fg.save(df)

an error is raised (everything seems OK at first, but after several seconds, the error is raised):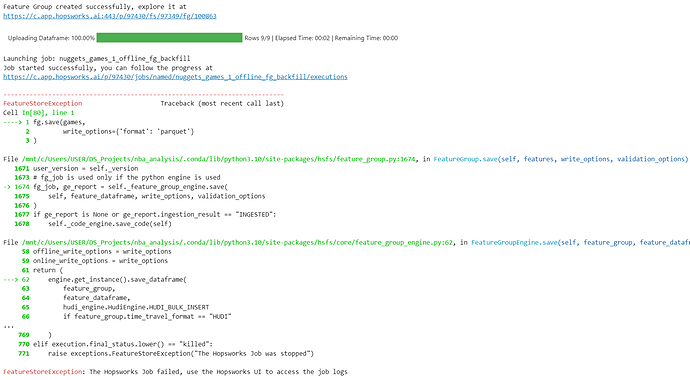 The feature group and the features are shown in the app, but there's no data.
I'd appreciate any help to understand what's going on.
Thank you!